Interior decor trends shaping the industry landscape and making waves among Instagram interior influencers.
While Pinterest may still reign supreme, Instagram is slowly but firmly becoming a go-to place for all interior designers and enthusiasts looking for inspiration.
From celebrities to a crafty girl next door, everyone is busy building their personal temples where they can feel safe expressing their inner beings. However, not everyone is bold enough to trust their instinct, but rather search high and low till they find a look they would feel comfortable emulating.
The most visually pleasing interior solutions often end up as a global craze turning the Instagram community upside down and creating massive sales for brands who are clever enough to mingle with the right design creatives.
Instagram home decor trends inspiring interior projects
More often than ever, the clients are sending us over images of Instagram homes as inspiration for their future homes. To help you stay in the know, we are here today to identify key emerging Instagram interior trends everyone seems to be eager to like and save these days.
Pampas grass
You must have spotted this one already. Thanks to its trendy color, rich & fluffy texture and sustainable origin, pampas grass has become an Instagram's darling. Playing well with just about any interior style (Scandinavian Modern or Boho style anyone?), this invasive garden weed is equipped with a mass appeal no one can resist these days.
It comes in many shapes and lengths, and sometimes even colors.
Curves and organic shapes
Curvy seems to be a new edgy as our rediscovered interest for the '60s and '70s reaches the top. After years when adorning our homes with sharp edges and straight lines was considered as chic, stylish Insta girls are bringing back a bit softer look. Rounded sofas and tables, organic shapes and curvy everything is back!
Curvy mirror finds on Amazon
Texture
Layered designs celebrating period pieces and global influences are crowned by the heavy use of texture. These days, texture comes in many shapes and forms ranging all the way from woven cane and seagrass to wooden and velvet ribbed surfaces.
Comfort comes first so anything that supports the creation of a warm and cocooning environment is more than welcome.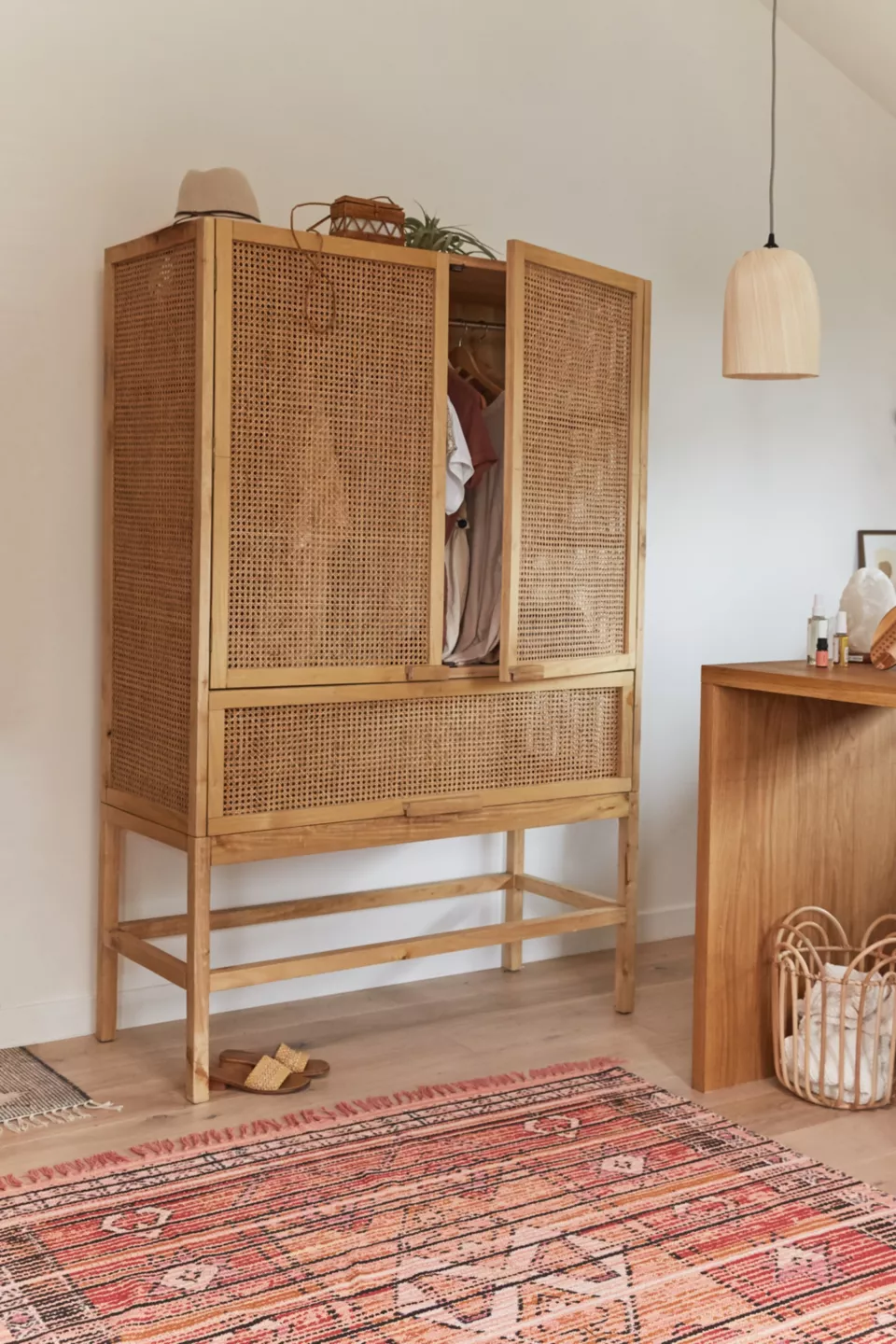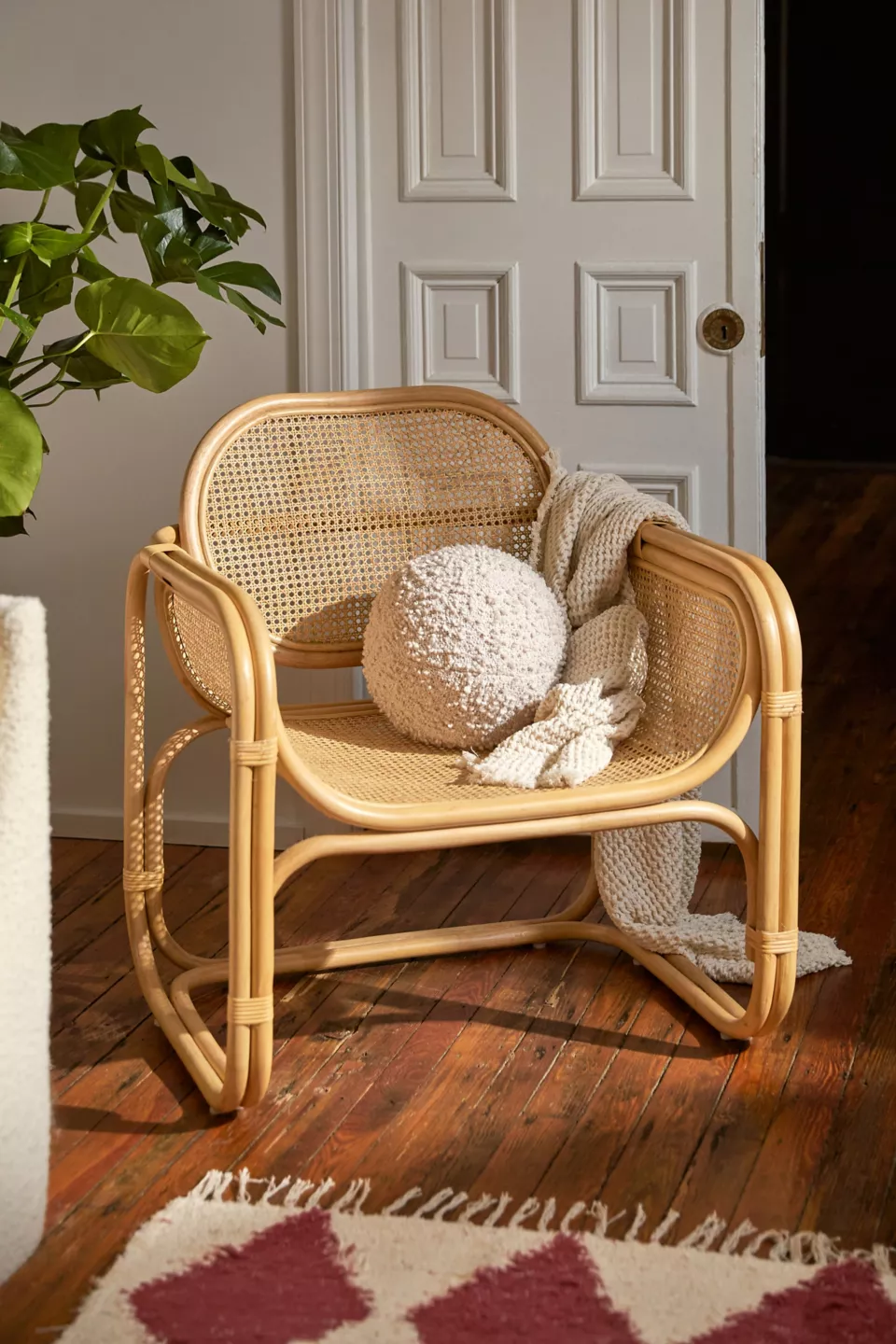 New Vintage
Putting a fresh spin on traditional decorating, Millennials are toying with neo-classical motifs and family pieces with a story. A rediscovered appreciation for authenticity and quality designs is fueling the passion for vintage furniture and encouraging many to take on their first DIY projects.
Old meets new in a form of architecture, furniture, art, and color.
Wallpaper
Granny's old floral wallpaper has gone through a facelift and it now looks chicer than ever. Sophisticated and subtle, nostalgic wallpapers are used as an unexpected backdrop for telling a contemporary story of slow living and mindfulness.
Powerful enough to provide character even to the most mundane of spaces, wallpapers are becoming increasingly popular with renters.
Statement art and gallery walls
Riding on the authenticity wave, personal art collections are gaining traction. Expect the unexpected as new collectors embrace different eras, media and influences.
Antique busts, shell-shaped vases, terracotta mugs and curvy candlesticks will be popping up all over your feeds, while overdone gallery walls featuring art prints will slowly but firmly leave room to the oversized statement art and curated collections of meaningful mementos, photography and stuff that tell the story of their curator's life.
Feminine Neo Art Deco
The Art Deco mania will continue to dazzle in the seasons ahead. Perhaps not everyone's cup of tea, but there is something about Neo Art Deco that appeals to the artistic souls looking for some glitz.
Going further, Art Deco will take on a more organic and hand-made appeal while still insisting on the calm and ethereal mood of the space.
Colorful world
People are starting to play with different colorways to create happy, inspiring spaces and establish a character that suits their sensibilities. Color poor homes are becoming extinct as we see more and more home crafters experimenting with paint on their walls, furniture and textiles.
New minimalism
Say farewells to the age-old idea of cold and sharp minimalism. The new minimalists are embracing their inner maximalists' desire for texture, color and pattern.
Oversized statement art, layering, show-stopping material mixes and occasional pops of color are adding to the cozy minimalist drama without causing unnecessary distractions and clutter.
Sustainability wave
With environmental concerns hitting the mainstream, we see a growing interest in eco-friendly materials and sustainable practices. Sustainability wave is splashing all over Instagram feeds fueling enthusiasm for healthy, cautious home design.
Sustainable shopping and focus on the wellbeing of both people and the planet are definitely some of the upcoming trends we look forward to seeing more of in years ahead.
What do you think - are we going to get tired of these Instagram interior trends soon or will they continue to stay relevant for years to come?
Inspired by our favorite Insta trends, we bring you a mood board made with SampleBoard software, or fill your Instagram feed with eye-catching content with the help of this free Instagram post maker.

Your turn! :)