The sculptural furniture trend helps us navigate the chaotic times.
Homeowners are starting to rethink their former interior decisions and discovering new, reimagined ideals that promote calm and resilience in the home environment. While the lines between personal and work lives continue to blur, we find ourselves in the new reality we all struggle to navigate.
To give shape to the chaotic world, some looked into concepts of mindfulness, yoga, spirituality, and minimalism. Some took pottery classes and tried their luck with DIY projects and gardening. And some turned to sculptural furniture and organic, tactile fabric as tools to help them give dimension to their spaces and make them more sensual.
Unusual pieces of furniture with a distinctive sculptural aesthetic have been trending for a while and, with the recent global events, it is expected that this trend will continue to grow and evolve as we enter the next post-pandemic chapter.
So let's dig into this fun and playful furniture aesthetic, learn about the most popular sculptural furniture pieces and get prepared for what comes next!
*Disclosure: I only recommend products I would use myself and all opinions expressed here are our own. This post may contain affiliate links that at no additional cost to you, I may earn a small commission.
Tubular furniture
Tubular furniture is having a moment. This type of furniture is characterized by its clean lines and simple shapes. It's perfect for people who want to add a touch of elegance to their homes without going overboard. Plus, it's easy to find tubular furniture in a variety of materials, so you can choose something that fits your personal style.
A reimagined nod to the past, the tubular furniture trend is striking a fine balance between maximalism and minimalism. And while the minimalist staple wears the statement Bauhaus signature, the strong scroll-stopping potential of these pieces comes from the oversized 70s form and bold material and color choices.
Perfect for introducing a statement to minimalist homes or giving the artistic, contemporary touch to the more is more settings.
Chunky shapes and rounded corners can be spotted in sofas, armchairs, tables, lighting, and more.
Shop tubular accent pieces
Curved furniture and decor
All things curvy are trending! With harsh rules and limitations of everyday life, we crave homes that promote comfort and softness. Curved furniture lines and unconventional silhouettes with a fluid form and sensorial textures aim to evoke deeper connections between people and their surroundings. It's all about mindfulness and creating a safe haven to unwind and recuperate from all the stress we accumulate during the day.
The trend roots from the sleek furniture lines of the 60s and the 70s, but the contemporary color scheme feels much more toned down and elegant. Usually monochromatic.
Shop curved accent chairs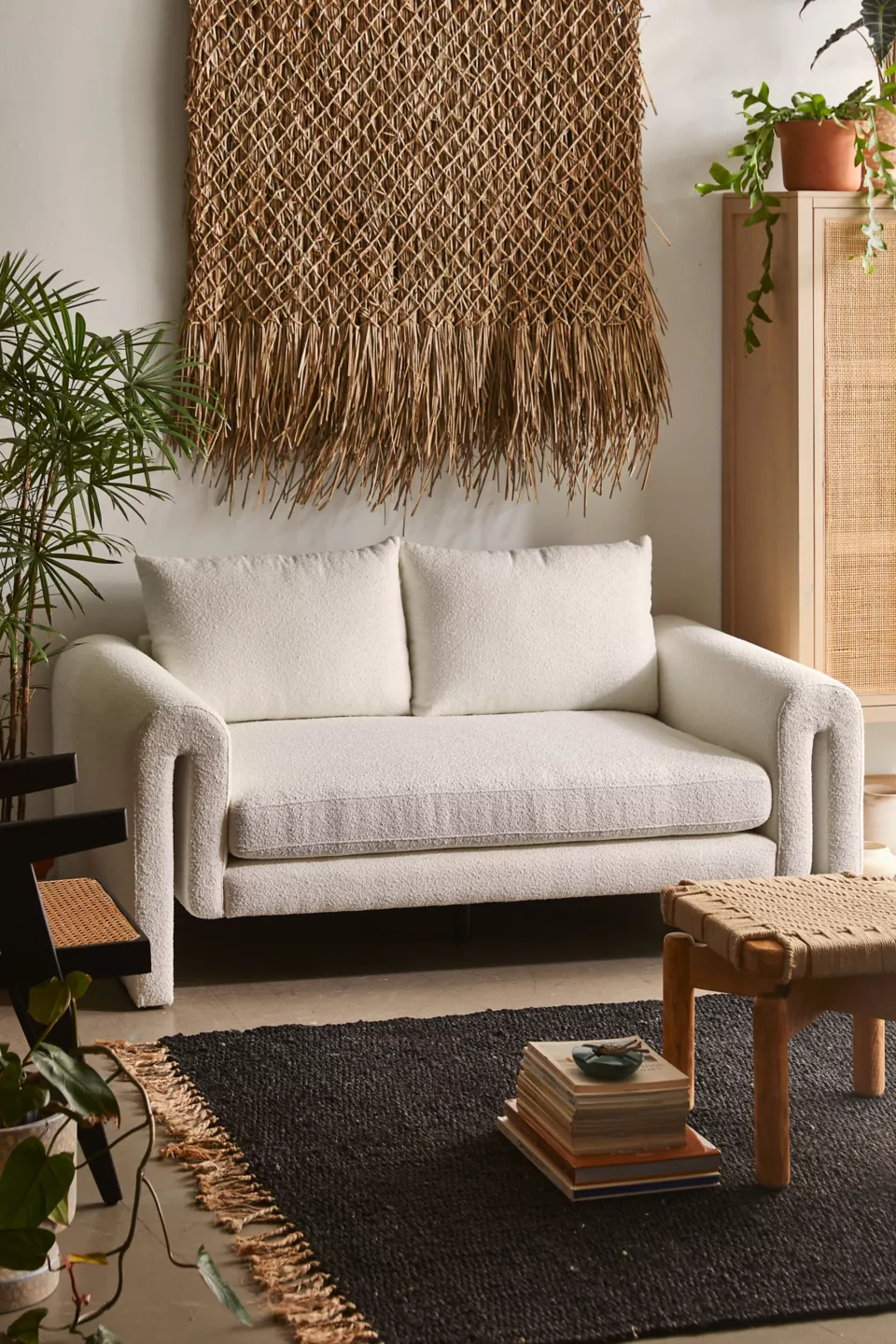 Playful Postmodern furniture design
On the other hand, the need for a more authentic, uplifting experience inside the home supercharges requests for playful furniture designs that feel anything but subtle. These unique pieces doubling as art are breaking the internet, with postmodern meets Memphis and Italian radical designers showing the way forward.
Both vintage (Gaetano Pesce and Ettore Sottsass) and contemporary pieces are into play, but the mix usually feels extra special.
This larger-than-life aesthetic hosts imaginative, almost child-like forms, with bold color and pattern solutions that make everyone stop and stare. Strong pop art and Memphis staple reimagined for a contemporary home offer escapism to the world where form triumphs over function and ratio and practicality sometimes step down for fun to lead the show.
An antidote to current world affairs, all these pieces promote the YOLO (you only live once) mindset, reminding us to never stop having fun, no matter the circumstances.
Notable sculptural furniture pieces
To much chair by Mas Creation
Carlotta Coffee Table in Multiple Sizes via Burke Decor
Design by Vaagn Mikaelyan via Sight Unseen
Lampe Half Sphere M by Lisa Allegra
Verona corner sofa by Desforma
Ornette sofa by Weiman
Slon Round Table by Matter Made