Last Updated on October 20, 2022 by SampleBoard
If you've ever felt guilty about all the plastic that ends up in landfills from conventional home decor products, you'll be elated to discover an alternative: sustainable home goods. But what is sustainable, where can you find it, and how do you know if it's right for your home? Read on to find out!
The Importance of Sustainable Living
As more and more people become interested in sustainability, they are also looking for ways to incorporate mindful living into their everyday lives. One way to do this is through the choices we make when decorating our homes.
There are many sustainable home decor options available these days, from furniture made of recycled materials to organic bedding and towels. By choosing eco-friendly home decor items, we can help reduce our impact on the environment and support the businesses that are working to create a more sustainable future.
By opting for ethically made and sustainable home decor goods, you can create a beautiful space that you can feel good about. From furniture to textiles to lighting, there are now more eco-friendly options available than ever before.
Where to Find Ethical Home Goods
When it comes to outfitting your home with ethical and sustainable home decor, it can be tough to know where to start. There are so many different brands and products out there all claiming to be the most sustainable or the most ethical, but how can you really know?
That's where we come in! In this blog section, we'll be rounding up some of our favorite ethically-made and sustainable home decor goods, so you can shop with confidence knowing that your purchase is making a positive impact.
From furniture to bedding to decorations and more, we've got you covered with our picks for the best ethical home decor goods on the market. So whether you're looking for a new sofa or just a few accent pieces, we hope you'll find something perfect for your home here!
Top 10 Sustainable Home Decor Brands
1. Parachute
Made with love by the world's best. From expert Portuguese craftspeople to a fourth-generation American mattress maker – Parachute manufacturers craft our home essentials using only the finest materials. Our Oeko-Tex certification means our products are safely made without any harmful chemicals or synthetics.

Parachute
2. The Citizenry
The Citizenry set out to build a company that celebrates the people behind our products. Our name, "The Citizenry", is a reflection of the collective of individuals – artisans, designers, and dreamers – who rally together across cultures and continents to craft our collections.

The Citizenry
3. Jenni Kayne
At Jenni Kayne take great care to build and maintain relationships with fair factories across the globe. Our shoes are always made in Italy, because true craftsmanship never compromises quality. We work with a women's cooperative in Peru for our textiles, because we believe in building up and empowering communities of women. And we produce locally when we can, making our candles, ceramics, and basic knits right here in Los Angeles.

Jenni Kayne
4. The Little Market
The Little Market is a 501(c)(3) nonprofit organization dedicated to the economic self-sufficiency of women worldwide through dignified income opportunities. Our mission is anchored in the fundamental belief that every person has the right to safe jobs and fair, livable wages. Each piece is made following fair trade principles, ultimately contributing to a life-changing sustainable income and giving back to the people who made it.

The Little Market
5. 54kibo
Contemporary African design is inspiring the global design landscape. So why isn't it accessible worldwide? 54kibo is different from other home decor retail stores, we created 54kibo to bring you luxury African home decor exclusively.

54kibo
6. Accompany
Accompany is a curated global marketplace featuring sustainable and ethical styles from artists and designers around the world. First and foremost, our mission is to change the lives of individuals, families and communities, for good through economic involvement at the heart of communities.

Accompany
7. Coyuchi
When we launched Coyuchi, we set a new standard—the first to create soft, luxurious, and lasting home textiles using only 100% organic cotton. What began as a weaver's dream to craft healthier linens has blazed a trail for those who seek accountability for their own footprints. What drove us then drives us today—to make the highest-quality products while leaving the least possible impact on the earth.

Coyuchi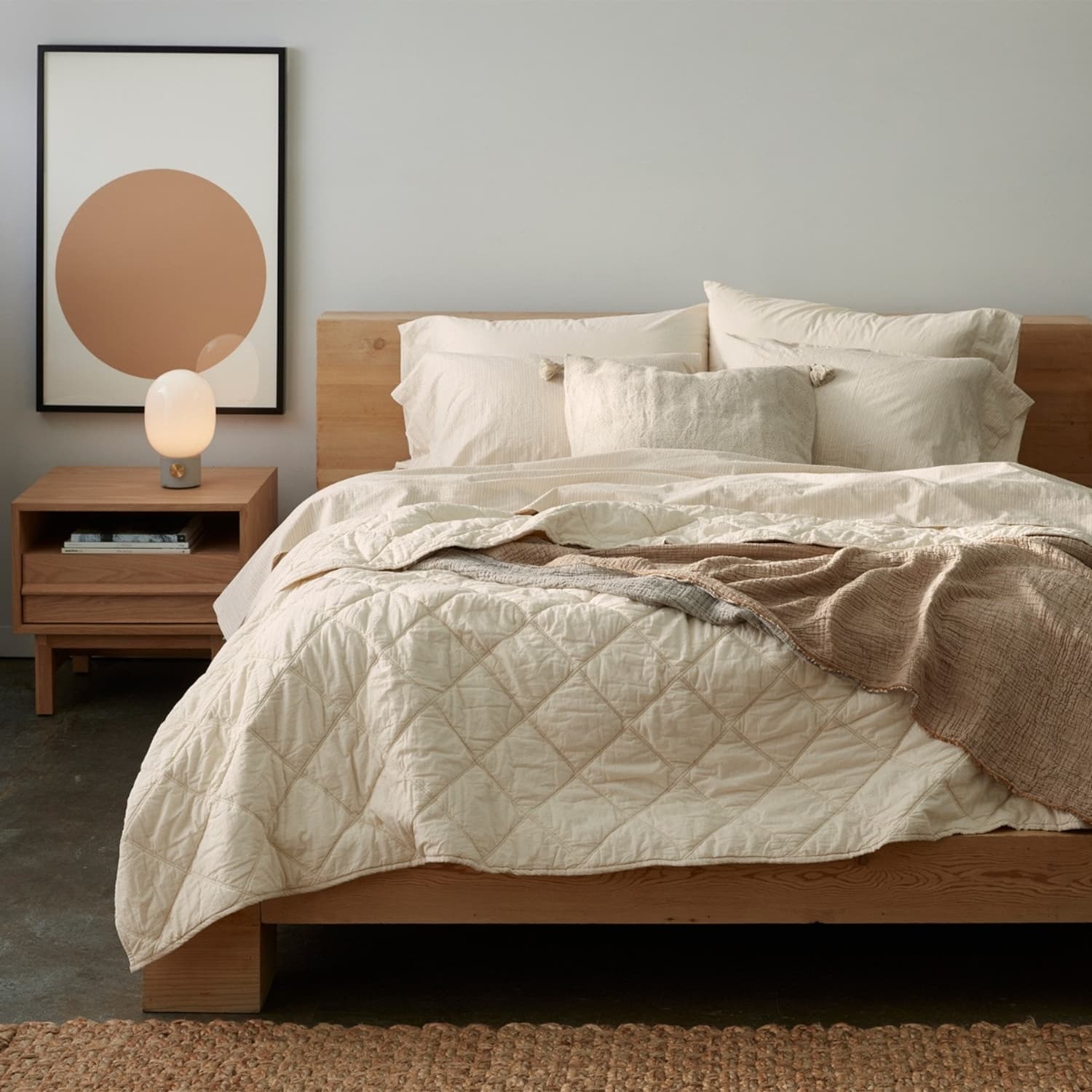 8. Bearaby
At Bearaby, we believe in making as little an impact on the world as possible. With every blanket we produce, every partner we work with, and every decision we make, we put the planet first. By leading change, it's our goal to make the world a little cleaner, greener, and better for everyone.

Bearaby
9. Obakki
Obakki is a purpose-led lifestyle brand that connects people through modern design. Everything we curate is handcrafted and produced in partnership with our network of world-class artisans—real people making products that bring meaning and connection to your home.

Obakki
10. Loomy
Loomy lets you discover beautifully crafted, ethically sourced rugs from artisans around the world so you can choose the perfect rug for your home. All our rugs are made from naturally sourced, eco-friendly man-made, or recycled materials. Thanks to our non-toxic materials and ethical production methods, we've already closed the loop on wasteful commercial manufacturing.

Loomy
How to Decorate a Home with Sustainable Goods
Eco-friendly and sustainable interior design is all about creating a healthy and sustainable environment in your home. This type of design takes into account the impact of our homes on the environment and looks for ways to reduce that impact. Some of the key features of eco-friendly and sustainable interior design include:
- Using recycled, natural, or upcycled materials whenever possible
- Creating healthy indoor air quality by using low-VOC paints and finishes, and avoiding harmful chemicals
- Incorporating energy-efficient lighting and appliances
- Selecting furniture and decor that are environmentally friendly and safe for humans and animals
- Supporting local businesses and artisans
Start by sourcing sustainable furniture and materials. Look for items made from certified sustainable wood, bamboo, wool, organic cotton, or recycled materials. Avoid products made from virgin plastics or other non-renewable resources.
Try to support businesses that use sustainable practices, like the ones listed above. This could mean companies that use recycled materials, or those who source their materials from fair trade suppliers.
Also, look for products that are made by hand. This supports artisanal craftspeople and helps to ensure that each piece is unique. Finally, consider the company's social and environmental policies before making a purchase.
Whenever possible, choose secondhand over new. Thrifting is a great way to find unique pieces for your home while also supporting reuse and recycling. You can also check out local consignment stores, antique shops, and online marketplaces like Etsy Reclaimed, 1stdibs and Chairish.
Feast your eyes on some notable sustainable design furniture classics:
So start shopping around and see what you can find! Your home – and the planet – will thank you for it.